How To Get Rid of Black Algae in Your Pool
Whether private or public, swimming pools must be maintained appropriately to ensure safety, and one of the most common problems for owners and operators is the growth of algae. Always inquire about pool maintenance costs in the South Ventura Pool maintenance service to keep the water's pH balance.
Algae spores find their way into your swimming pool all the time, and the best way to control them is to maintain the alkalinity level of your swimming pool. The typical black algae, on its own, can't harm you, but the bacteria feeding on it can.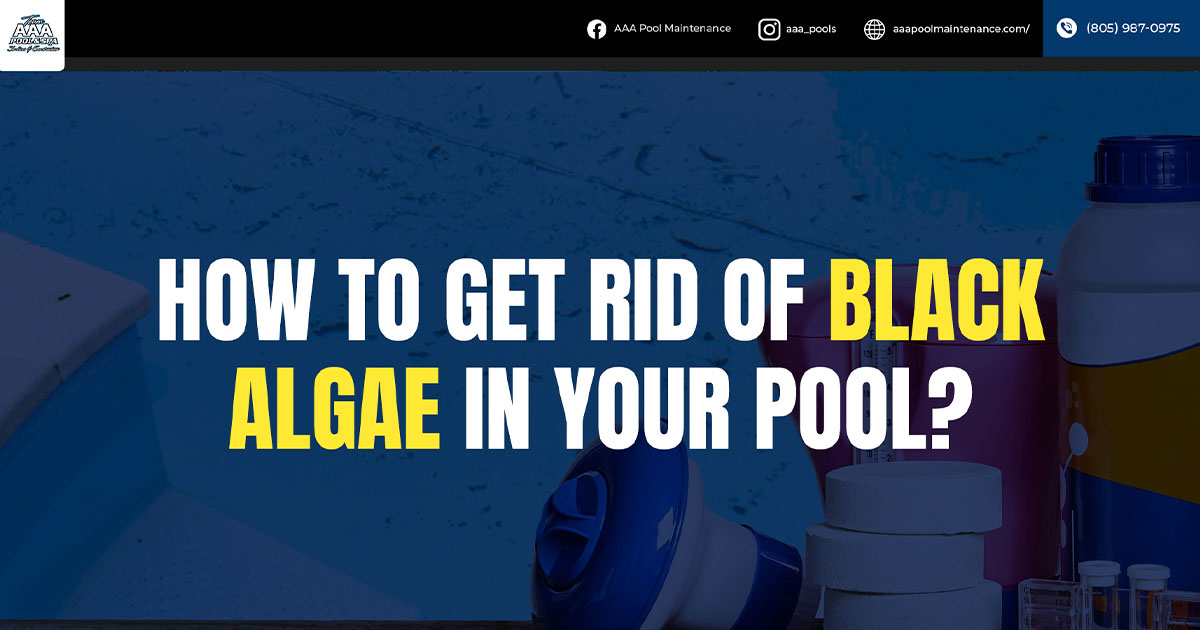 What is ALGAE?
Algae are microscopic plants that can penetrate your pool by natural elements like rain and wind. They can also attach to things as familiar as beach toys or swimsuits. These micro-plants can quickly multiply themselves and bloom into a big eyesore; this can pose a significant problem for your pool surface and equipment if untreated.
What tools do I need to remove algae?
– Algaecide: It can quickly and effectively remove algae using chlorine synergy. This type of product can end and control green, black, and mustard algae types.
– Pool Shock: There are three significant types of pool shock: Cal-Hypo, Di-Chlor, and Chlor-Free. All three can be effective in eradicating algae in the right circumstance.
– Cleaning Brush: Every pool brush has its usage! The same goes for every swimming pool surface. Soft nylon brushes are suitable for vinyl-lined, fiberglass, acrylic, or painted pools, while wire brushes are excellent for cleaning plaster and concrete pools.
– Pool Perfect Plus PHOSfree: Cleans waterline and filter while reducing surface oils and other non-living organics.
– Chlorine Tablets: These high-density tablets provide consistent dissolution and long-lasting conservation for your pool.
How do I Get Rid of Black Algae?
Black algae are one of the most difficult to get rid of, especially when soaked for longer. Every pool owner must get their pool cleaned every week or preferably every day to avoid intruders, such as using pool toys from beaches, leaves, twigs, dead insects, dirty stones and sands, etc.
The good news is it's not impossible to get rid of black algae. It will only take a little more effort and persistence, or you can hire a team to do the work for you.
Step 1: Adjust the pool water pH to 7.4-7.6 and the alkalinity to within 80-120 ppm.
Step 2: Brush all the black spots with a wire algae brush (use a nylon brush for vinyl, fiberglass, or painted pools).
Step 3: Add 1.5 quarts of Suncoast Metal Control per 10,000 gallons when the pool is circulating by diluting in a bucket.
Step 4: Rinse the bucket; never mix chemicals.
Step 5: Mix Algaecide chemical by diluting in a bucket and pouring away from the pool's sides. Use 12 oz per 10,000 gallons.
Step 6: Brush the black spots daily while algae are visible.
Step 7: Repeat steps 1 to 6.
How do I keep Black Algae from coming back?
Black algae are more likely to come back after an initial outbreak. Use Algaecide to prevent future algae breakouts; better to use your trusted brand in maintaining your pool. It keeps your swimming pool algae-free without foaming and contains a clarifier to keep your water sparkling.
Keeping your pool treated appropriately, and balanced is the best way to prevent algae blooms from returning. Get the job done without the hassle by partnering with AAA Pool Maintenance, the number pool service in South Ventura County.