Pool Deck: What's The Best Pool Deck Material?
When it comes to pool decking options, there are a lot of choices available in the market. Pool decking is essential to consider the materials you want in your design, depending on your needs and preferences. A block of decorative concrete can provide many looks you like but cost-effectively. Plus, it incorporates design flexibility, and beauty comes with strength and durability.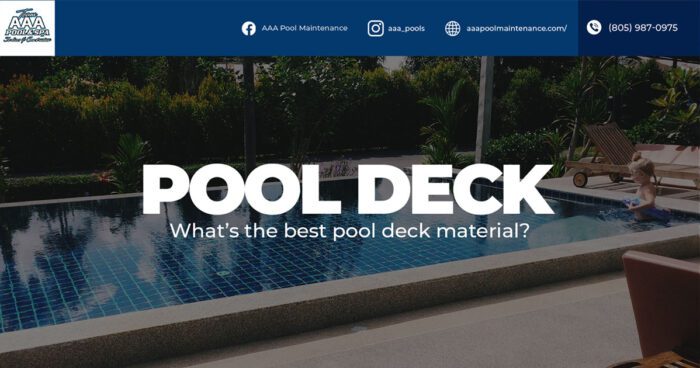 Qualities of a Good Deck Material
When considering which pool deck materials you want to utilize, you must consider safety, budget, durability, maintenance, and how it fits your home and backyard landscape. While concrete certainly isn't the only option in the market, it offers several edges that other pool deck materials can't match, specifically when it comes to versatility.
As for our 30 years of experience in pool making, we witness the edges that concrete can bring compared to the other options such as natural stone, pavers, brick, and tile. Although all these materials have pros and cons, we believe concrete is the clear winner in the following categories.
Slip-resistant: A pool deck will get wet during the use of the pool, which causes a slippery pool deck. Generally, an exemplary pool deck material will naturally be slip-resistant, such as having a rougher surface or texture that can still provide grip even when drenched with water.
Non-abrasive: While a non-slip material is fantastic, it also needs to be slip-resistant without being hard or painful to walk while barefoot. Some non-slip materials are superior at maintaining grip but can be extremely painful for a barefoot person to walk on, which doesn't work around a swimming pool.
Water-resistant: Obviously, a pool deck will get wet, so a pool deck material must be able to defy a good water soaking without getting damaged. Absorbent or porous materials aren't the best choice in this matter.
Low-cost: Does choosing the best pool deck material need to be super-material like it would cost a fortune? It doesn't have to, and that's a helpful factor considering not everyone has hundreds or thousands of dollars to spend on constructing a pool deck.
Low-maintenance: A swimming pool is indeed a high-maintenance property feature. From pH water balance, chemical solutions, cleaning, and other machinery upgrades, it needs to be appropriately addressed. Thus, partnering with a professional cleaning company is always a must.
The deck around your swimming pool has a challenging but important job to do. Not only does it have to defy the brutal harshness of being exposed to water with chlorine during pool usage, but it also has to bear the brunt of hours of sunlight, wildly-changing temperatures, and even the occasional rainfall.
That means the material you choose to construct your pool deck is a crucial choice you have to take seriously. What material you choose should not only be able to provide the job of serving as a pool deck but be able to last for an extended period of time and much more.

If you want to give your old swimming pool a new look for the upcoming season, let us help you maintain that with our expertise! AAA Pool and Spa serve the whole of Ventura County with the outstanding pool service maintenance you deserve.