What does chlorine do in your swimming pool?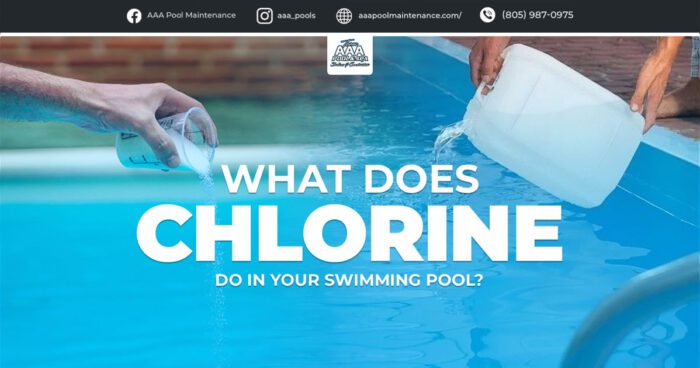 What is chlorine, and how is chlorine made?
Chlorine is a naturally-occurring chemical element and one of the basic building blocks of matter. It is produced from ordinary salt by passing an electric current through a solution of brine (common salt dissolved in water) in electrolysis.
Chlorine is the most popular pool sanitizer. Its responsibilities include sanitization, disinfection, and oxidation. Having a good free chlorine residual is essential to having a healthy and safe pool to swim in. During the production of paper and cloth, chlorine is used as an agent of bleaching. It is also used in cleaning products, including home bleach, which can be dissolved in water.
Reminder to all pool owners to NEVER mix different types of chlorine. Chlorine is a volatile oxidizer, and when combined with other types of chlorine, it can be fatal. Always use BSI or Body Substance Isolation, such as protective gloves and glasses, for caution.
What experts say about chemicals and pool safety:
• According to the US CDC or U.S Centers for Disease Control and Prevention, chlorine is mainly added to swimming pools to kill germs and other forms of bacteria caused by humans using the swimming pool. Chlorine and pH are our first line of defense to protect the swimmers.
• Whatever pool chemical products or electrical devices you use to clean your swimming pool or spa, it is a must to maintain a certain amount of sanitizer to prevent disease-causing microorganisms from multiplying, stated Health Canada.
• According to Belgian scientists who support proper pool disinfection, chlorine is the best disinfectant. There is no evidence that options or alternatives to chlorine will provide an appropriate solution for the disinfection of swimming pools. (Superior Health Council of Belgium)
The chemical reactions involved in Chlorination
Chlorine and hypochlorite salts react with water to produce the strong oxidant hypochlorous acid; this is the primary bactericidal agent in pool water.
In water, hypochlorous acid exists in equilibrium with the hypochlorite ion's weak oxidant. The combined concentration of these chemicals in pool water is referred to as "Free Available Chlorine" (FAC).
The UV light present rapidly breaks up hypochlorite ions in sunlight, and this causes 90% of the FAC loss from outdoor pools. This means that outdoor pools require more routine chlorination – or the addition of other chemicals to stabilize the FAC levels.
Swimming pool or spa water that hasn't been appropriately sanitized can make people sick. Possible infections include ear illnesses, stomach infections, and skin rashes.
Microorganisms like bacteria and algae can live in swimming pools and spa water. Even crystal clear water can have microorganisms in it that our bare eyes can't see. Maintaining proper pH balance with sanitizers reduces the number of microorganisms to safe levels.
To keep your swimming pool or spa water safe, you must test the water daily, especially during times of high use. It is essential to always perform proper water balance in all types of pools and spas, even inflatable pools.
Are you situated in South Ventura County and its surrounding? Are you looking for pool maintenance near you?
We at team AAA Pool & Spa offer reliable pool maintenance service in the whole of South Ventura County! Our experienced professionals help residents and commercial operators with their pool care needs. Contact us today at (805)-987-0975, requesting a free quote.