Everything You Need to Know About Gunite Pool
If you are planning on building a concrete swimming pool, you have probably heard of the term "gunite" at least a few times.  Gunite swimming pools are popular for their versatility in shape, as well as their durability. Because of this, gunite is the most common pool type seen at many resorts, and now, homes.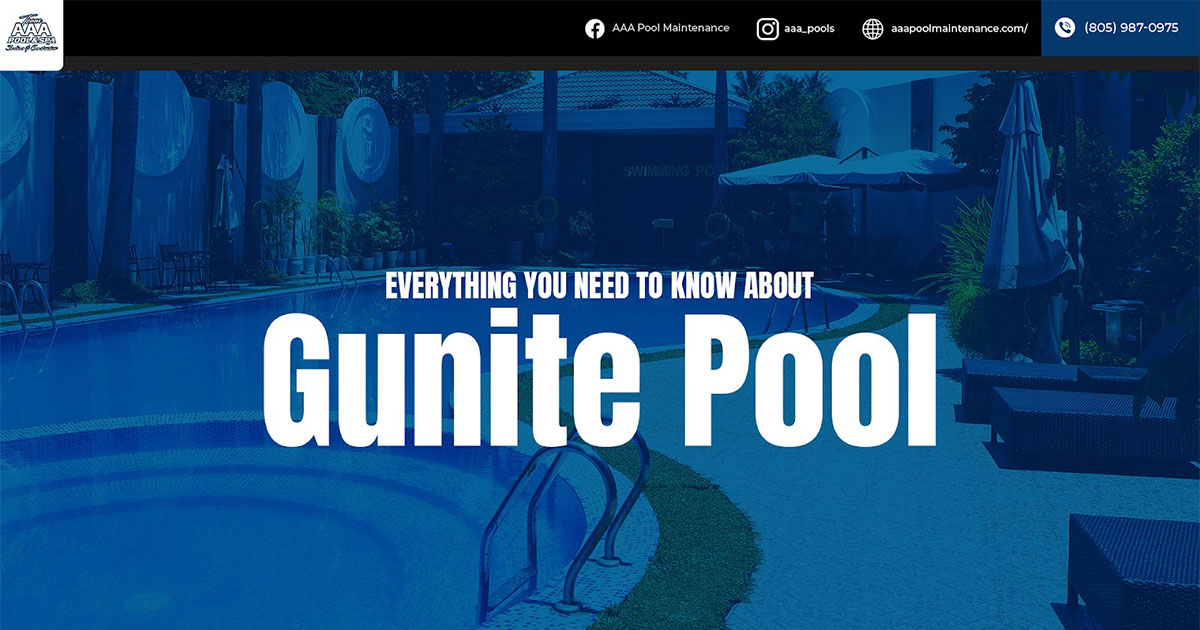 Gunite is made up of sand, water, and cement, and it's similar to conventional concrete but for one key difference. Gunite is coated in layers using a specialized spray gun, unlike ordinary concrete, which is poured piece by section into timber frames. As a result, unlike standard poured concrete, gunite surfaces do not have seams, making gunite pools extremely resilient.
Builders can spray concrete on vertical surfaces or curves because it is applied using a compressed air "gun." Gunite is commonly utilized in things like road tunnels, in addition to being a preferred choice for inground pool building.
Historically, a complete installation of a gunite swimming pool has cost between $55,000 and $100,000, depending on the features included. However, in today's COVID-era pool market today's, we rarely see gunite installs for less than $100,000. Because gunite pools (and shotcrete pools, for that matter) can be customized to any size, shape, and depth, with virtually any feature imaginable, even if you're seeking to construct a smaller and less unique gunite pool design, expenses can quickly rise into the six-figure range.
The advantage of a Gunite pool is that it is entirely adjustable. Any size, shape, or depth is possible, as are an infinite number of bespoke features. Grottos, waterfalls, vanishing borders, perimeter overflow, and other exotic pool features are virtually entirely available only with Gunite pools. Gunite also has the advantage of "feeling like a genuine pool," compared to the inside of a bathtub or a kiddie pool. That may explain why Gunite pools are popular among hotels, resorts, country clubs, and other companies.
There's another reason gunite is so extensively utilized for pool construction, in addition to its distinct appearance and ultimate design versatility. Gunite produces a long-lasting result: a solid, steel-reinforced concrete structure that can hold water and withstand the elements. In addition to having an extraordinarily high tensile strength, Gunite, in addition to having an unusually high tensile strength, also has a great degree of flexibility. That's correct; gunite performs even better in a swimming pool when it's flexible.
As you can see, custom Gunite pools have a wide range of options, are pretty highly durable, and have a high-end appearance that may transform your backyard into a beautiful retreat. Gunite pools are extremely cost-effective due to their exceptional durability and aesthetic appeal. You now know the fundamentals of their construction, their architectural diversity, and how both gunite and shotcrete can provide your home with a long-lasting update. It may be time to think about installing a gunite pool in your backyard.
If you're planning to have a gunite swimming pool, it is a must to partner with a trusted pool construction expert. Our team is ready to provide you with the best class of comprehensive gunite pool designs and build services.
No worries because once the swimming pool is finished, our ongoing maintenance plans for pools will keep them looking as good as new, so your customers can enjoy a beautiful and healthy pool or spa day or night.