The Importance of Proper Pool Service
Let's admit it, cleaning isn't as fun as swimming. When was the last time you cleaned your pool? Maybe if you thoroughly check your pool, it may have algae or hard water build-up that needs scrubbing.
Sometimes or most of the time, we lack time to do the cleaning stuff due to many reasons, one of those is we are too busy with our careers which we may forget to do our responsibilities in our pool. If this continues, sooner rather or later, you simply can't swim in your pool because it's too dirty or sludgy.
There's this standard 3 Cs of pool care. That is circulation, chemistry, and cleaning. With the proper equipment and a little elbow work, you can skim, brush, and vacuum your pool to make it a sparkling clean pool in no time.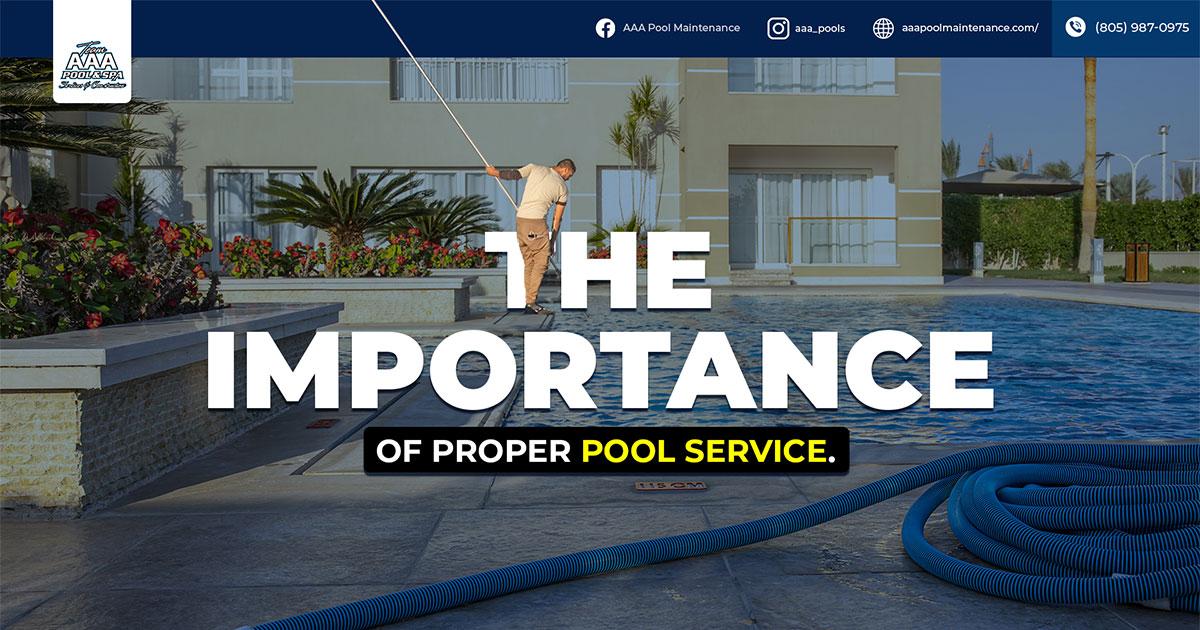 Why is Pool Cleaning Important?
You're probably wondering why you have to bother deeply scrubbing your pool when you have already added chlorine or sanitizing chemicals in the water?
Think about it this way: you use cleaning agents like shampoo and soap when you shower. But does your tub stay clean indefinitely? Of course not. Shampoo and soap are meant to cleanse your body, not the tile, porcelain, or fiberglass.
After a while, you'll start to see buildup and unpleasant soap scum. And then, because your tub and shower walls stay wet much of the time, mold may start to grow in there. If you don't scrub your tub regularly, you'll be trying to bathe in a swamp after a while.
It's the same for your pool. Chlorine, bromine, and other chemicals help keep your water clean, and yes, to a degree, they also help keep the walls, floor, and surrounding areas of your pool clean too.
But chemicals won't keep leaves and bugs out of your water, nor will they keep the walls and floor of your pool clean indefinitely. So no excuses. In addition to using chlorine or other chemicals to keep your pool clean, regular, thorough pool cleaning is also absolutely necessary.
Pool Cleaning Equipment
Before you start cleaning, you'll want to make sure you have all the needed tools on hand. Having the equipment you need will make pool cleaning much more manageable for you.
So head out to your pool shack and take inventory of the pieces of equipment you need. First, check the tools you already have. Are they still in good condition? Or do you need new ones? Then, note what's missing from your collection or what you need to add?
And if you're a new pool owner, maybe you're just not quite sure what pool cleaning equipment or machine you need. Don't worry—we've got you covered.
Telescopic Pole
As its name suggests, it can be expanded to different sizes or lengths. We recommend buying an 8-foot rod or pole that extends upto 30 feet and more. That should let you clean the walls and the floor of the pool when needed.
Skimmer Net
This is one of the tools you'll probably use more often than any other. Attached to a telescopic pole, a skimmer net allows you to collect debris that's accumulated on and below the water's surface. Leaves, bugs, twigs, hair ties—all of them can be scooped up in a skimmer net.
When choosing a skimmer net, you have two options: a flat skimmer or a bag skimmer. We suggest the flat skimmer because it's easier to shake off the debris you collected from the pool. On the other hand, a bag skimmer may hold more; it's a pain to empty, especially when it's wet.
Pool Brush
This tool can also be attached to a telescopic pole. Sticking pool brush into it can scrub your pool's wall and floor, removing specks of dirt and detaching algae before it can take hold and grow. The question is, what type of brush should we use?
To answer that question, ask yourself: What is your pool surface made of? This will determine what type of brush you should use.
• If your pool surface is unpainted concrete, use a brush with stainless steel and nylon bristles.
• If your pool surface is Gunite, use a brush with stainless steel bristles.
• If your pool surface is Fiberglass, Vinyl, or Painted Concrete, use a brush with nylon bristles only.
It's wise to buy a heavy-duty pool brush since you'll be using it often, and cheaper brushes tend to break or fail due to, well, cheapness, but also the constant exposure to pool chemicals.
Manual Pool Vacuum
A pool vacuum cleaner can help you sweep leaves underwater, mulch and algae from forming on the walls of your swimming pool. As we said, a clean swimming pool means healthy pool water — and that's why a pool vacuum is a must-have for your pool maintenance toolkit.
Guess what! We're a Pool Cleaning Expert!
AAA Pool & Spa has dedicated specialists who get routine maintenance every time; this is important because proper care will make your pool and equipment last longer and deliver better long-term benefits for you.
We also have a full-time team of pool and spa repair personnel that work on your pool equipment and plumbing. We have the experience you need when it comes to accurately troubleshoot your pool's lighting, plumbing, heating, or other functional problems.
We then use the very best parts, materials, and equipment to get your pool or spa up and running well again. We do the work right — the first time!