5 Common Pool Maintenance Mistakes
Making pool maintenance mistakes ranks on our fun scale somewhere between tripping on a rake and getting kicked in the tender bits. Owning a swimming pool brings plenty of chances to make pool care mistakes, big or small.
But mistakes are just opportunities to learn. Educating yourself on the most common pool maintenance mistakes helps keep your pool safer, cleaner, and running efficiently with less mess and frustration.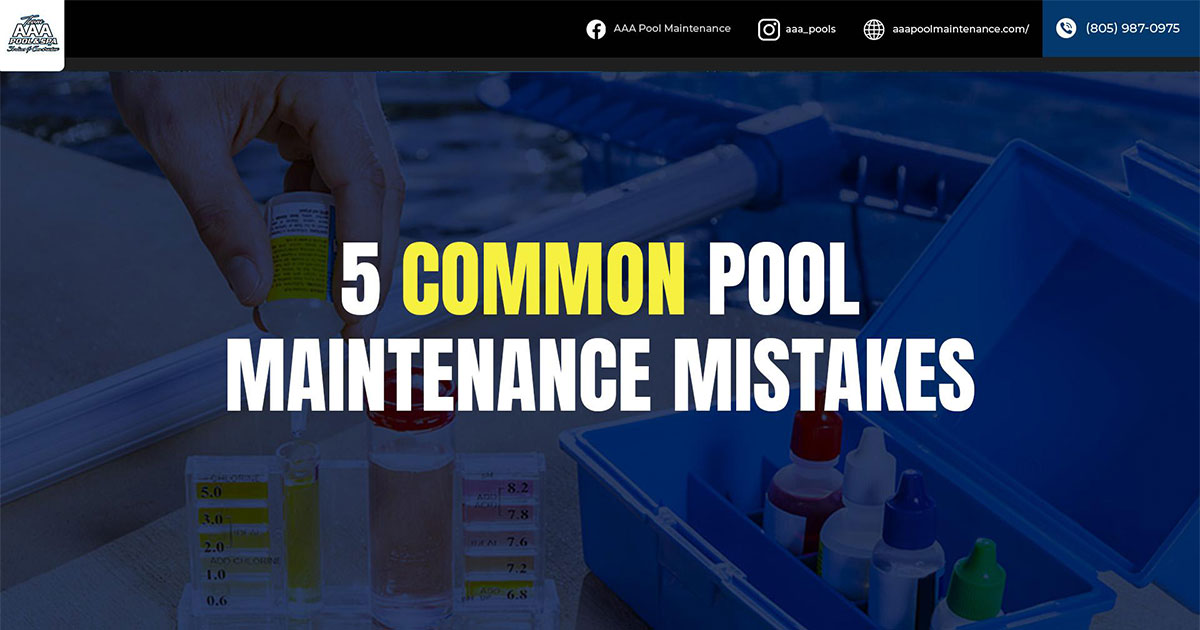 Adding shock directly into the pool water
The chemical we call pool shock is concentrated chlorine. At high power, chlorine can bleach anything that enters your swimming pool. For instance, it can turn black clothes pink and white clothes yellow if the concentration is too high.
Don't worry—you can't over shock your pool. But beyond fashion faux pas, adding shock straight to the pool water if you have a vinyl liner can be a catastrophe. The shock granules will sink the bottom and bleach out your pool liner. The bleached area becomes brittle and frail, causing leaks.
Not Brushing Your Pool
You already know how essential it is to vacuum your pool regularly to keep scum and slope from building up and destroying your swim.
But just like your teeth, your pool needs a good brushing to look its best. Whether vacuum your pool automatically or manually, follow it up with a good brushing.
Using an automatic pool cleaner when you have an algae problem
Working with pool algae is hard enough. Add vacuuming to your to-do list, and you might think it's time to replace your pool with something less high-maintenance.
It's quite tempting, but don't fire up your automatic cleaner. Pressure-side automatic pool cleaners push algae and other debris up through a mesh bag; this gives the algae an excellent little tour of your pool but doesn't remove it.
Ignoring Your pH and Alkalinity Levels
You probably know in your high school science classes the importance of balanced pH to healthy and happy ecosystems—including your swimming pool. A low pH indicates acidity, while a high one means alkalinity. Too much of either is bad news.
If your pool water has an extremely low pH, it's very acidic; this might seem reasonable; it's harsh for algae and other invaders to thrive in acidic water. Plus, acidic water flashes and appears, at first glance, to be pristine and pure.
Backwashing your pool filter too often
Backwashing is NOT a secret toddler technique for leaving floaters in your soda despite its name. Backwashing cleans the media inside your filter, whether sand or diatomaceous earth (D.E.). Pool water washes funk and gunk out of your filter media, then exits through your filter's backwash valve drain port.
Backwashing is an essential part of primary pool care, but overdoing it is a more common pool maintenance mistake.
Are you planning to own a swimming pool?
If you're planning to have a commercial pool business, it is a must to partner with a trusted pool construction expert for your pool maintenance and avoid common pool mistakes. Our team is ready to provide you with the best class of comprehensive pool designs and build services, including hardscaping and landscaping work.  
No worries because once the pool or spa is finished, our ongoing maintenance plans for pools will keep them looking as good as new, so your customers can enjoy a beautiful and healthy pool or spa day or night.